Universal Control Unit [Draft Copy - Not released for production]
CX - Control Module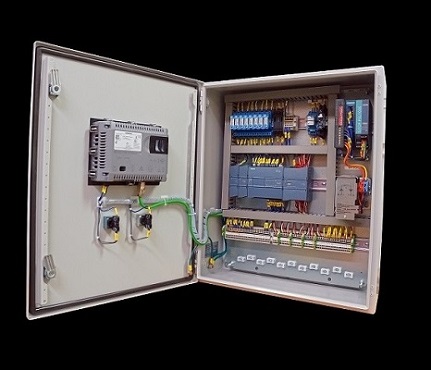 The core-1-CX module is a basic PLC control unit, made of a compact CPU, with web server, a Power Supply for internal use, CLASS 2 Power Supply for powering the field I/O devices, IE Switch, 6 digital inputs (24VDC), 4 digital outputs (Dry contact, 1/3HP @220VAC), RS485 port (protocol configurable).
For the field connections, spring clamp terminal blocks are used (required a 3mm flat screwdriver, shipped with the module).
Default configuration Profinet IO-Device.
It can be configured as Profinet IO-Controller, modbus RTU, or Master, or combination of these.
CX - Control Module
Web Site under construction - content is being updated
CX - Control Module
Applications:
Process Controller
VFD control via Modbus
Pump/Lift station controller
CX - Control Module
The Following hardware options are available for this module:
Touch Panel 4", 7", or 9"
CPU model 12, 14, 15, or 17
UPS 24VDC with 1.2Ah battery
Additional Class 2 Power Supply 24VDC / 3.7A
Communication card: RS-232C - Fee ASCII
Communication card TS IE ADV (remote service)
Communication card: AS-interface
PROFIBUS
Marine use
Material of the Enclosure
Side of door hinges
Custom additions
1.1 General technical specifications
Specification
Value
Observations
Installation Location
Indoors/Outdoors
Without Touch Panel
Indoors
With Touch Panel
Mounting position
Vertical
Wall Mounted
Hinges
On left side
Optional right side
Enclosure
24" [H] x 24" [W} x 8" [D]
Plus Mounting Lugs
Material
Carbon Steel
16 ga body / 16 ga door
Colour
RAL 7035
Light Gray
Degree of protection (UL)
Type 4
Standard
Type 4X
Optional
Cooling
Convection
No additional cooling required
Operating temperature
0 – 40ºC
Ordinary location
Transport and storage temperature
-10ºC to +50ºC
Installation altitude
Up to 1,000 m
No restrictions
1.2.1 Power supply input
Specification
Value
Units
Observations
Voltage range
85 to 264
VAC
Line frequency
47 to 63
Hz
Input current
300
mA
at 120 VAC
150
mA
at 240 VAC
Inrush current (max.)
20
A
at 264 VAC
Isolation (input power to logic)
1500
VAC
Ground leakage, AC line to functional earth
0.5
mA
max.
1.2.2 Power supply output
Specification
Value
Class 2 Output
Regulated, DC voltage
Rated voltage
24 V
Total tolerance, static ±
3%
Static line regulation, approx.
0.1%
Static load regulation, approx.
0.2%
Residual ripple peak-peak, max.
200 mV
Residual ripple peak-peak, typ.
90 mV
Spikes peak-peak, max. (bandwidth, approx. 20 MHz)
300 mV
Spikes peak-peak, typ. (bandwidth, approx 20 MHz)
60 mV
Output voltage can be adjusted
No
Response when switching on/off
Overshoot of Ua approx. 1%
Starting delay, max.
1.5 s
Voltage rise, typ.
500 ms
Rated current (la rated)
3.7 A
Output active power/typical
89W
Short-time overload current / for a short circuit in operation / typical
5A
Can be connected in parallel to increase the power ratin
No
1.3 CPU
CPU Features
Value
Units
Observations
User memory
30
Kbytes
Work
10
Kbytes
Retentive
Bit memory (M)
4096
bytes
High-speed counters
4
max. configured
●100/*80 kHz
Time delay interrupts
4 total
with 1 ms resolution
Cyclic interrupts
4 total
with 1 ms resolution
Real time clock accuracy
+/- 60
seconds/month
Real time clock retention time
20
days
typ./12 days min.
(maintenance-free Super Capacitor)
Performance
Boolean
0.08
μs/instruction
Move Word
1.7
μs/instruction
Real math
2.3
μs/instruction
Blocks
Type
OB, FB, FC, DB
Size
30 Kbytes
Quantity
Up to 1024 blocks total (Obs + FBs + FCs + DBs)
Address range for FB, FC, DB:
1 to 49999
Nesting depth
16 from the program cycle to startup OB
OBs
Program cycle
Multiple
Startup
Multiple
Time-delay interrupts
4 (1 per event)
Cyclic interrupts
4 (1 per event)
Hardware interrupts
50 (1 per event)
Time error interrupts
1
Diagnostic error interrupts
1
Time of day
Multiple
Status
1
Update
1
Profile
1
Timers
Type
IEC
Quantity
Limited only by memory size
Storage
Structure in DB, 16 bytes per timer
Counters
Type
IEC
Quantity
Limited only by memory size
Storage
Structure in DB, size depends upon count
1.5 Communications
Type
Industrial Ethernet
Data rates
10/100 Mb/s
Isolation (external signal to PLC Logic)
Transformer isolated, 1500 VAC, for short term event safety only logic)
Cable type
IE CAT5e shielded / 85m max lenght between segments
Number of ports
3
Protocol
PROFINET, MODBUS TCP, TCP/IP, SMTP, HTTP
Type
RS485
Data rates
300, 600, 1.2k, 2.4k, 4.8k, 9.6k, 19.2k, 38.4k, 57.6k, 76.8k, 115.2k bps
Isolation
500 VAC, 1 minute
RS485 signal to chassis ground
RS485 signal to CPU logic common
Cable type
Shielded / 1,000 m max lenght
Number of partners
1 to 30
Protocol
Free ASCII, Modbus Master, Modbus RTU
Optional
Type
AS-i
Data rate
16,700
Isolation
500 V
Number of AS-i slaves (maximum)
62
Optional
Type
PROFIBUS (DP Master or DP Slave)
Data rate
9.6 kbps to 12 Mbps
Isolation
710 VDC for 1 minute
PROFIBUS signal to chassis ground
PROFIBUS signal to CPU logic common
1.6 Digital Inputs
Specification
Value
Units
Observations
Number of inputs
4
Max. addressable
With optional I
Rated voltage
24
VDC
at 4 mA, nominal
Continuous permissible voltage
30
VDC
max.
Surge voltage
35
VDC
for 0.5 sec.
Logic 1 signal (min.)
15
VDC
at 2.5 mA
Logic 0 signal (max.)
5
VDC
at 1 mA
Isolation (field side to logic)
500
VAC
for 1 minute
Isolation groups
1
Filter times
0.1, 0.2 , 0.4, 0.8, 1.6, 3.2, 6.4, 10.0, 12.8, 20.0
us settings
0.05, 0.1, 0.2, 0.4, 0.8, 1.6, 3.2, 6.4, 10.0, 12.8, 20.0
ms settings
HSC clock input rates (max.)
100/80
kHz
Number of inputs on simultaneously
4
Cable length (meters)
500
m
shielded
300
m
unshielded
50
m
shielded for HSC inputs
1.7 Digital outputs
Specification
Value
Units
Observations
Number of outputs
2
Max addressable
With optional outputs
Type
Relay, dry contact
UL Horsepower and Pilot duty ratings
Ratings "Motor Load" Single phase
1/3
HP
110-120; (7.23 FLA)
¾
HP
220-240; (6.9 FLA)
Pilot Duty
B300 – R300
277 VAC
A300-R300
30 VDC
Contact configuration
1 CO (SPDT)
Rated current/Maximum peak current
16
A
Rated voltage/Maximum switching voltage
250
V AC
Rated load AC1
4,000
VA
Rated load AC15
750
VA
230 VAC
Single phase motor rating
0.55
kW
230 VAC
Breaking capacity DC1:30/110/220 V
12/0.5/0.15
A
Minimum switching load
300 (5/5)
mW (V/mA)
Standard contact material
AgNi
Mechanical life AC/DC
10 · 106
cycles
Electrical life at rated load AC1
100 · 103
cycles
Operate/release time
15/5
Dielectric strength between open contacts
1,000
V AC
Pulse Train Output rate
Not recommended
Behavior on RUN to STOP
Last value or substitute value (default value 0)
Cable length (meters)
500 m shielded, 150 m unshielded
1.4 Touch Panel (Optional)
Size
4.3"
7.0"
9.0"
Actice display area
95 x 53.9 mm
154.1 mm x 85.9 mm
198 mm x 111.7 mm
Type
LCD TFT
LCD TFT with extended viewing angle
Resolution
480 x 272 pixels
800 x 480 pixels
Possible colors
65536
65536
Brightness control
Yes
Yes
Backlighting
LED
LED
Half Brightness Life Time (MTBF** )
20,000 h
20,000 h
Pixel error class in accordance with ISO 9241 -307
II
II
* Via Control Panel: Minimum to 100
** MTBF: Operating hours after which the maximum brightness is reduced by half compared to the original value. MTBF is increased by using the integrated dimming function, for example time-controlled via screen saver or centrally via PROFlenergy.
Type
Touch screen (analog resistive)
Function keys
4
8
Labelling strips
Yes
Yes
Features
Value
Tags
800
Number of discrete alarms
1000
Screens
250
Recipes
50
Number of logs
2
Number of log entries
10,000
Trends
25
1.8 Standard Compliance
System design conforms with the following standards and test specifications. The test criteria for the automation system are based on these standards and test specifications.

Underwriters Laboratories Inc. complying with:
● Underwriters Laboratories, Inc : UL 508A Listed (Industrial Control Panels)